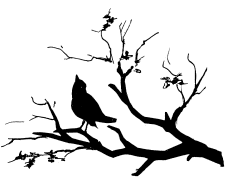 ~ The Bird-catcher and the Asp ~



A bird-catcher took his snare and birdlime and went out to do some hunting. He spotted a thrush on a tall tree and decided to try and catch it. So, having arranged his sticky twigs one on top of the other, he concentrated his attention upwards. While he was gazing thus he didn't see that he had trodden on a sleeping asp, which turned on him and bit him. The fowler, knowing that he was mortally wounded, said to himself:

'How unfortunate I am! I wanted to catch my prey and I did not see that I myself would become Death's prey.'

Moral: This is how, when we plot against our fellow-creatures, we are the first to fall into calamity.


The Complete Fables of Aesop
Translated by Olivia and Robert Temple
Penguin Group, New York

---
Inspiration Pointe | Matters of the Spirit
---
[an error occurred while processing this directive]


Page Created on: January 5, 1999